IB Middle Years Programme Curriculum
---

The International Academy of Macomb is in the process of becoming the first International Baccalaureate Middle Years Programme in Macomb County.
The IB Middle Years Programme provides a challenging academic curriculum that encourages students to understand the connections between traditional school subjects and the world around them, all while becoming critical and reflective thinkers.
The curriculum is comprised of eight subject groups through five interactive areas that provide a global learning context to discuss issues that we face today. In addition, in their final year of study, students complete an independent "personal project" to demonstrate and reflect on their academic and personal growth.
---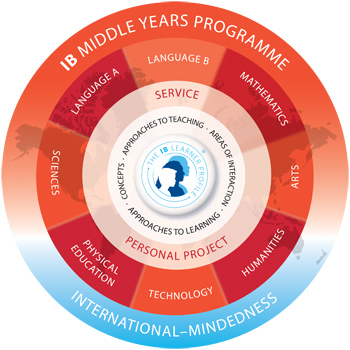 | | | |
| --- | --- | --- |
| GROUP | 1 | LANGUAGE A: includes the study of literature and the instrumental function of a language where listening, viewing, speaking, reading and writing skills are emphasized. |
| GROUP | 2 | LANGUAGE B: is the study if a modern language other than their mother tongue, with the long term goal of balanced bilingualism. |
| GROUP | 3 | HUMANITIES: the primary aim of a humanities course is to develop technical, analytical, problem-solving and investigative skills while fostering understanding of the concepts of time, place and space, change, systems and global awareness. |
| GROUP | 4 | SCIENCES: the study of science aims to provide students with both a body of knowledge and an understanding of the scientific approach to problem solving. |
| GROUP | 5 | MATHEMATICS: the study of mathematics aims for students to understand mathematical reasoning and processes, to apply mathematics and to evaluate the significance of results, to develop strategies for problems, and to acquire mathematical intuition. |
| GROUP | 6 | THE ARTS: in the study of the arts students are brought into contact with the art forms and aesthetic values of other cultures as well as their own, and are helped to develop perceptions between ideas and art while being encouraged to identify particular creative abilities and to master the appropriate techniques. |
| GROUP | 7 | PHYSICAL EDUCATION: the aim of this course is to cultivate a healthy and active lifestyle for students while providing different forms of self reflection, communication and team work. |
| GROUP | 8 | TECHNOLOGY: the aim of this course is problem solving in an effort to stimulate student's ingenuity devising practical solutions to given tasks while fostering awareness of the social and ethical implications of technological development. |

View the IB MYP Programme Brochure
What do students say about the IB Middle Years Programme?